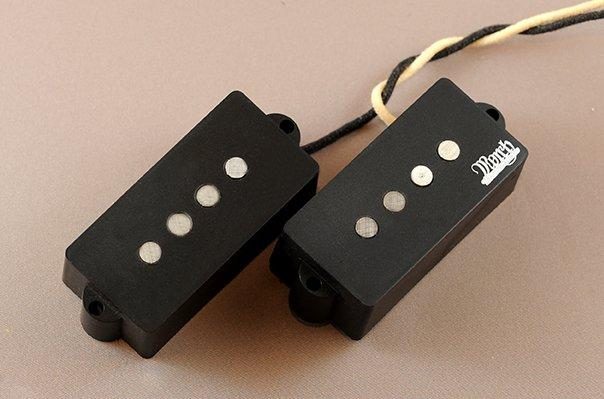 (Alnico V/HL)
Bass Passive Singlecoil
Produced for 4 strings
This is the favorite among Rock'n Roll bassists: A highly tuned, gutsy P-Bass type with better definition and much more punch than even the very best vintage P-Basses. Still the treble is somewhat rolled-off and the special Alnico V magnets provide a certain Vintage character. A pickup of great versatility on its own – and a favorite among live and studio bassists who want sounds with lots of character.
The sound control can, however, be further improved by connecting this high impedance pickup to The Mørch Active Preamp.
Er markante basgange med klar, veldefineret og fundamental P-bass lyd lige dig? Så er ROCK'N ROLL MAN svaret. Det amerikanske forbillede kender vi alle, og det er naturligvis her vi tager udgangspunkt. Men med ROCK'N ROLL MAN, der for længst er blevet en Mørch klassiker, får din P-sound både ekstra proteiner og et skud sunde steroider, for her er mere af det hele: Mere tone, bedre opløsning, mere karakter, en fastere og solidere bund, en bredere og tættere mellemtone og dertil en vel integreret top med skøn Alnico-V karakter. Ingen tvivl om at det er bred humbucker-sound, men klarhed er kodeordet. Uanset om du spiller reggae, heavy rock'n roll eller simpel country & western, så er ROCK'N ROLL MAN indbegrebet af fuldfed P-sound.
Største attraktiv: Med ROCK'N ROLL MAN får din P-lyd "ekstra proteiner". (Peter Rahbek)
Data : DC: 10,4 K ohm , Resonance Peak 4,58 KHz
ROCK'N ROLL MAN - Peter Rahbek